Tag: M Ward
by Tim Weilert on Sep.15, 2009, under Concert Reviews
Since this is the first bit of free time I've had since getting back from the weekend's festivities, the review will be for both days. Similar to what I did for the Westword Music Showcase review, each band gets 50 words max.
Saturday
Gregory Alan Isakov: The first set we saw all weekend was from one of Colorado's best singer-songwriters. Gregory played a solid set, which included my favorites "Virginia May" and "Big Black Car."
Speakeasy Tiger: We didn't catch much of this set, but it reminded me of any number of 80′s girl-pop bands.
Lydia: It was my second time seeing this group, and I actually appreciated their set more having listened to their record. The vocals came off a little sharp, but in the end it turned out to be a well-rounded set.
Danielle Ate The Sandwich: Danielle was in her prime as she played to a packed crowd at the smallest stage. Along with her bassist Dennis, this was probably one of the best sets I've seen her put on.
Frightened Rabbit: Only caught a few songs there, really nothing to write home about.
The Pains of Being Pure at Heart: It was during this set that everything got soaked (and didn't dry for the rest of the day). 'Pains' reminded me of The Clash mixed with a touch of the Smiths (at least Johnny Marr's guitar tone).
OK GO: Their good song was good, although they didn't have any treadmills in tow. It was danceable at best.
The Walkmen: Another set in the rain. I might have zoned out for a good portion of The Walkmen. They were good, but didn't really have any songs that stood out.
M. Ward: While he did play a couple songs from Hold Time, I really wished he would've played more from that record. However, ending the set with "Roll Over Beethoven" had to be one of the highlights for the entire day.
Boulder Acoustic Society: We determined that these guys took all of the gypsy and punk aspects of DeVotchKa and boiled them down into pure energy.
Girl Talk: Perhaps the best set of the entire first day, Girl Talk didn't let the rain keep things from getting good. It was like a high school dance on speed. Not only was it fun to dance to, I also found spotting where samples had come from as another layer of enjoyment.
Of Montreal: I was not prepared for what happened during this set. There were people in costumes and strange projections. It was probably equivalent to taking a bunch of acid then having a psychedelic trip. However, it was still an amazing set and a good way to end the day.
Note: We skipped Yeah Yeah Yeah's headlining set to beat the traffic. Also, we were cold, wet, and feeling rather miserable.
Sunday
A Shoreline Dream: We were at it early again the next day and caught this band's day-opening set. It was rather odd to see such a dark, prog-rock set indoors while the noon-time sun was brightly shining outside.
Jim Mcturnan and the Kids That Killed the Man: I actually ran in to drummer John Fate the previous day and he encouraged me to catch this set. I have also determined that Mike Marchant is in every band in Denver. As far as the set went, I like how Westword described it: "Dinosaur Jr. minus ten 100 watt Marshalls, a few temper tantrums and the pretension."
We Were Promised Jetpacks: One suggestion I have for Monolith next year is do something different with the indoor stages. We were promised a We Were Promised Jetpacks set, but were forced to wait in the lobby for most of the set since the room was at capacity. However, we did catch the amazing ending to the Broncos game while waiting there, so not all was lost.
There you have it, a review about a band that really didn't involve the band at all. Actually what we did see was quite good.
Rahzel: I am still in awe of this man's beat-boxing ability. He had a DJ up there with him, but often just 'boxed the beats himself. Also, he could actually sing, not something that can be said of all rappers.
Monotonix: I really didn't know what to expect here. It was like if Borat had a cracked out old-school punk rock band. It was definitely a highlight for the entire weekend.
The Dandy Warhols: Stoner music, 'nough said.
The Thermals: This Portland group played through a number of mildly enthusiastic songs, including a Sonic Youth cover. Overall, the simplicity of this band had me a little bored.
HEALTH: Since I had a hard time getting any good pictures, I tried to take one that reflected how it felt to be there. A violent jumble of noise and drum beats, HEALTH's set was unlike anything I'd ever heard. It shook me to the core, but had danceable beats at certain points.
French Horn Rebellion: I got really bored very quickly with this group. It was standard electro-pop with absolutely no attitude whatsoever.
Methodman & Redman: I'm fairly certain there was a cloud of weed-smoke floating over the amphitheater during their entire set.
Passion Pit: More dance music, although this stuff had a full band, so it was more enjoyable. However, I really could not find a way around the singer's ridiculous falsetto, it was incredibly distracting.
Phoenix: Once again, a decent band, but no real stand-out songs. It was danceable and played well with the main stage atmosphere, but kinda fell short.
Chromeo: This Canadian duo outdid most of the other electro-pop acts in that they also played live instruments.
The Mars Volta: The headliner for the second night was not a let down in the least. The energy that singer Cedric Bixler-Zavala and guitarist Omar Rodriguez-Lopez brought to the stage had people in a frenzy. They played through a number of newer songs before playing my favorites "Drunkship of Lanterns" and "The Widow." At one point they even played "Eunuch Provacateur," a song from their first EP saying it was a response to the breakup of At The Drive-In.
Suggestion for how to actually sell out Monolith next year: Get At The Drive-In to reunite and play a one-time-only show.
Overall, Monolith was a good weekend, although there were several times during Saturday that I felt like going home (the weather was bringing me down). Overall there were a few gems in there, but for the most part it was a lot of hipster-dance and fairly generic rock.
1 Comment
:Boulder Acoustic Society, Chromeo, Danielle Ate The Sandwich, French Horn Rebellion, Frightened Rabbit, Girl Talk, Gregory Alan Isakov, HEALTH, Jim Mcturnan and the Kids That Killed the Man, Lydia, M Ward, Methodman & Redman, Monolith, Monotonix, Of Montreal, OK GO, Passion Pit, Phoenix, Rahzel, Speakeasy Tiger, The Dandy Warhols, The Mars Volta, The Pains of Being Pure at Heart, The Thermals, The Walkmen, We Were Promised Jetpacks
more...
by Tim Weilert on Mar.22, 2009, under Album Reviews
Introduction:
Imagine you're asleep. You're dreaming. The world floats around you in bathed in bright colors and warm sounds. You hear a voice, it is drenched in reverb. Now wake up. This experience is not something of the surreal, but is an accurate description of M. Ward's newest work Hold Time.
Oftentimes a collaborator rather than a solo musician, Ward has worked with some of today's most prominent indie bands, including everyone from Bright Eyes and My Morning Jacket to Rilo Kiley's Jenny Lewis. Ward has added his mellow sound to more than a few projects of note within recent years. In 2008, Ward worked with singer/actress Zooey Deschanel on a critically acclaimed project known as She & Him: Volume One.

Memorable Song:
"Hold Time," the title track of the album, showcases Ward at his best. Simple layers of strings and piano accompany ethereal vocals and provide a strong support for the deep lyrics. "You were beyond comprehension tonight, but I understood." "Jailbird" is another strong track with a straightforward pop-sensibility and catchy lyrics.
Forgettable Song:
"Oh, Lonesome Me," a Don Gibson cover featuring Lucinda Williams, is by far the black sheep of the record. The track starts out alright, but soon Williams's raspy vocals take over. Her delivery is so odd and out of place on the smooth track that it sounds like she's recovering from a bad head cold, not singing.

Final Thoughts:
This is a country record for those who do not like country music. Do not expect to hear Garth Brooks, or even Johnny Cash, but think Sam Cooke meets Elvis meets Bright Eyes. Ward's simple country/gospel/indie sound is mellow enough to relax listeners, yet catchy enough to garner repeated listening.
Watch "Hold Time" here: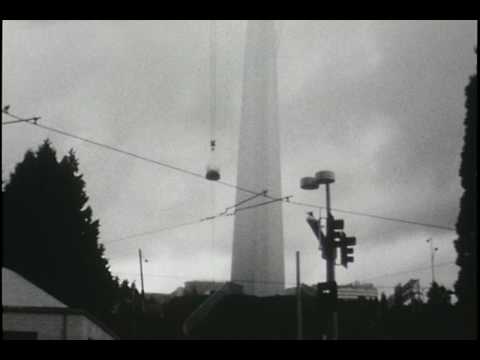 Leave a Comment
:Hold Time, M Ward
more...